Maps, schedules & other bus tour services
Barcelona City Tour is an official Barcelona's sightseeing tour, with a panoramic deck affording unique views over both the old and the new Barcelona.
Using your ticket as often as you want over the course of either one or two (consecutive) days, you can hop on and off at any of the 35 stops along our two routes, which divide the city into Green/East and Orange/West.
Plus, while onboard the Barcelona City Tour you'll receive a discount book that you can use in restaurants, stores, guided tours, transport and many other attractions.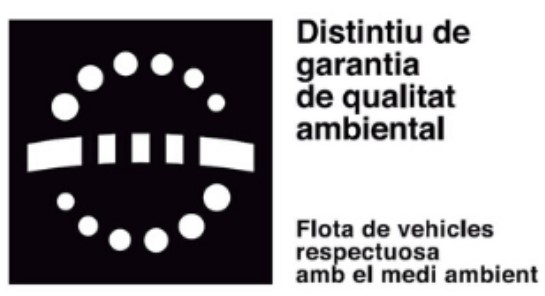 ---
Barcelona hop on hop off map & brochures
When you board the bus, you'll be given a brochure with a plan of the city and details of the routes with a description of the stops. The brochure is available in up to 6 languages, depending upon availability: Catalan, Spanish, English, French, German and Italian.
---
Hop On Hop Off Barcelona Hours
We offer an uninterrupted service throughout the year, except for Christmas Day (25 December) and New Year's Day (1 January).
Duration: The estimated time for each route is around 2 hours to 2 hours 30 minutes depending on the season.
Departure time: The bus tour starts at 9:00 a.m. and the last tour starts at 7:00 p.m. from Stop 1, on Plaça Catalunya.
Service frequency varies between 7 and 25 minutes, depending on the time of the year.
---
Pre-recorded audio guide in 15 languages
Each bus has an automatic audio guide system in 15 languages providing information on each point of the trip.
Spanish
Catalan
English
French
German
Italian
Portuguese
Russian
Hindi
Chinese
Dutch
Japanese
Arabic
Swedish
Hebrew.
All you have to do is plug in the free headphones we'll give you and enjoy finding out about the city.
---
The fleet of double-decker buses
Barcelona City Tour boasts a fleet of 40 double-decker buses with a panoramic upper deck affording a unique view of the city. The lower deck is air-conditioned and all our vehicles are equipped with anatomical seats to make your trip more comfortable. Remember that our entire fleet is red in colour, indicating on the front which route is being covered at any given time.
To ensure that those with reduced mobility can also enjoy the service, all our vehicles are equipped with a ramp accessing the rear door and a space set aside for wheelchairs, a continuous low floor platform and a quick kneeling system that tilts the vehicle to the right.
To ensure a smooth service, all passengers should enter by the front door and exit from the rear. Also, our buses have two sets of stairs linking the two levels: the front one should be used to go up and the rear one to go down, to save time and make our trips even more enjoyable.
The Barcelona City Tour buses meet all EU emissions regulations.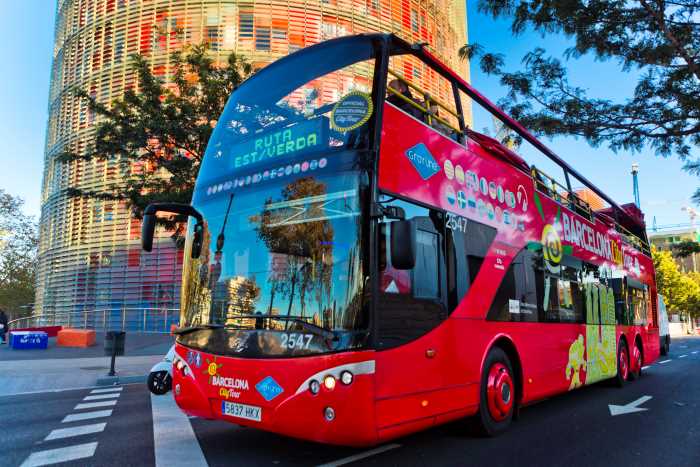 Free on-board Wi-Fi
Our buses feature free Wi-Fi, so you can surf and keep yourself informed as you travel with us.
Sliding roof
In the case of rain, our staff will cover the upper deck so you can continue to enjoy the route, even when the weather turns nasty.
Audio in 15 languages
All tickets include a set of standard headphones and a pre-recorded audio guide controlled by our on-board staff.
Accessible vehicles
Space designed for persons with reduced mobility
Brochure
You will be given an information brochure when you get on one of Barcelona City Tour's Hop-on Hop-off buses.
---
Hop-On Hop-Off service
Discover Barcelona with your own custom itinerary.
Discover the city at your own pace and create your own tour of Barcelona with the hop-on hop-off service offered by the Barcelona City Tour. Get on and off our buses as often as you like for as long as your ticket is valid and explore the many tourist attractions the city has to offer.
The Barcelona City Tour tourist buses offer two different routes, the East/Green and the West/Orange route, so you can travel all over the city. Both routes will take you to the city's most renowned tourist attractions so you can get off the bus wherever you want to explore the city in depth. You can then get back on the bus at any of the 35 stops along either of the Tour's two routes.
Barcelona City Tour makes it easy to get to know the city in a way that's different, comfortable and tailor made. Check out our map to see the various stops of the tourist bus and the points of interest. You can also download the free mobile app available for the Barcelona City Tour so you can have the information with you at all times.