No matter if you're traveling with friends, as a couple, or going solo, Barcelona has plenty of ways to explore. One popular option is taking a "Hop on Hop off" tourist bus, giving you great views and the chance to hop on and off at different stops.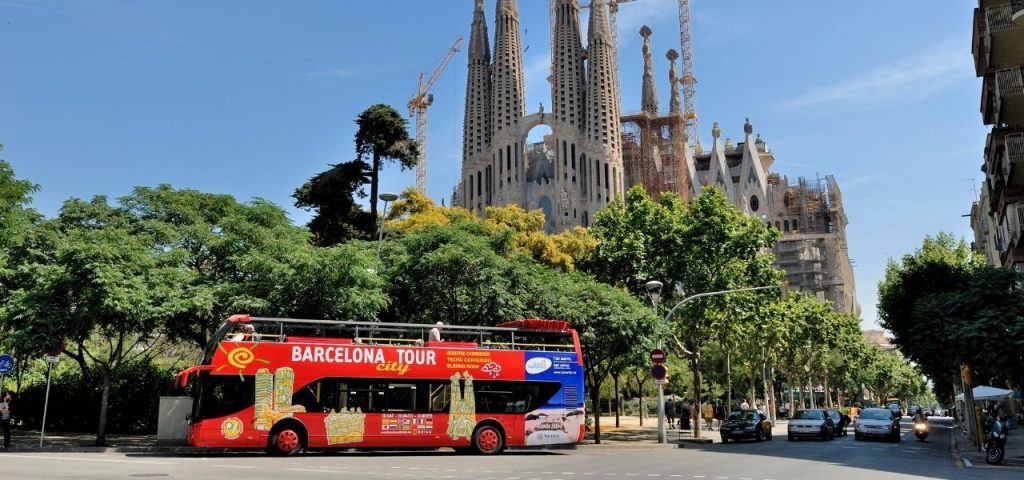 Hesitant to embark? Here you have 5 strong reasons to embrace this immersive exploration around the best of Barcelona.
1. MAXIMUM FLEXIBILITY: CREATE YOUR OWN ITINERARY!
If fixed itineraries are not your thing, but instead you love to go your own way, the Hop on Hop off tourist bus is the ideal option to make the most of your trip to Barcelona.
But before we start, do you know what a "Hop on – Hop off bus" is?
As the name suggests, this is service allows you to hop on and off the bus as many times as you want at different stops. For example, you take the Barcelona tourist bus at Plaza Catalunya, and decide to get off at Casa Batlló to explore the area at your preferred pace. When you're ready, simply catch the next bus. You're not limited to reboarding where got off; you can hop on again at any stop along the route.
The Barcelona City Tour Hop on Hop off bus offers two routes including the city's highlights. Let's dive into these routes, so you can plan your adventure like a pro!
Green Route or East Route : treat yourself to a tour of Barcelona's iconic monuments and landmarks
The East Route or Green Route allows you to get to know the "east" side of Barcelona. This route includes, among many other stops:
Plaza Cataluña
Aquarium de Barcelona
La Pedrera
Sagrada Familia
Park Güell
Check out their 16 stops here!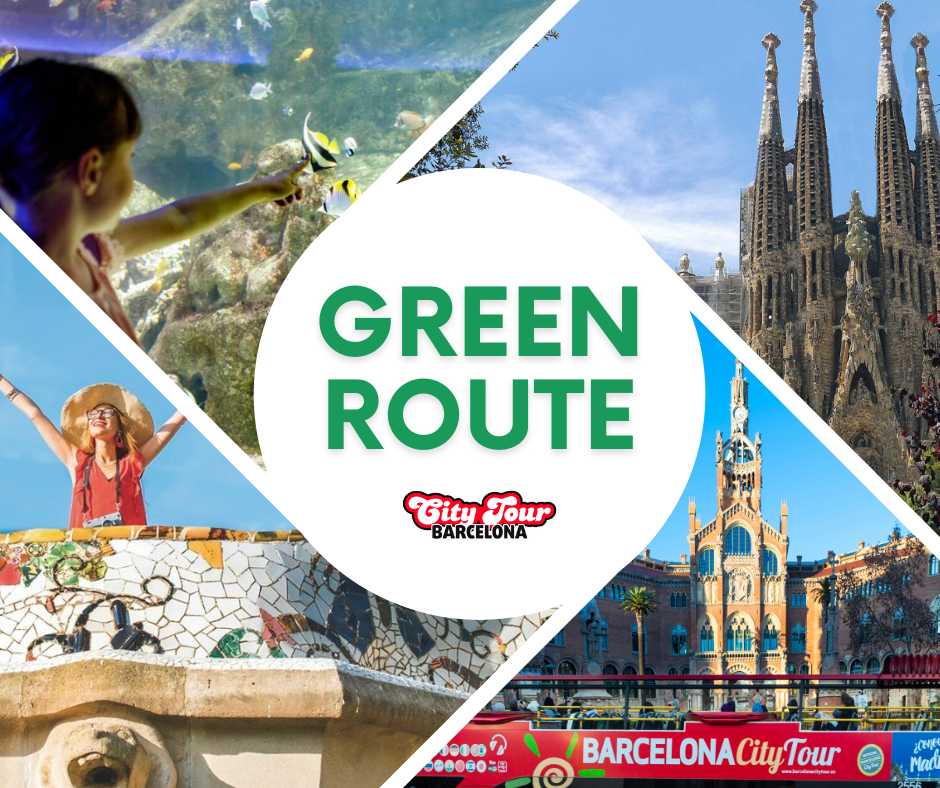 Orange Route or West Route : explore the contemporary side of Barcelona!
This route includes, among many other stops:
Plaza España
Montjuïc
Arc de Triomf
Camp Nou
Barceloneta Beach
Check out their 19 stops here!
With your ticket, enjoy the freedom to hop on and off at any stop, no matter the route. Begin at an East Route spot, then catch the next bus at a West Route point, crafting your adventure as you go.
2. COVER THE BEST OF BARCELONA WITHIN 1 OR 2 DAYS
Upon purchasing your tourist bus tickets, tailor the validity period to your preference. Select from two ticket options designed to match your journey: a 24-hour ticket and a 48-hour ticket.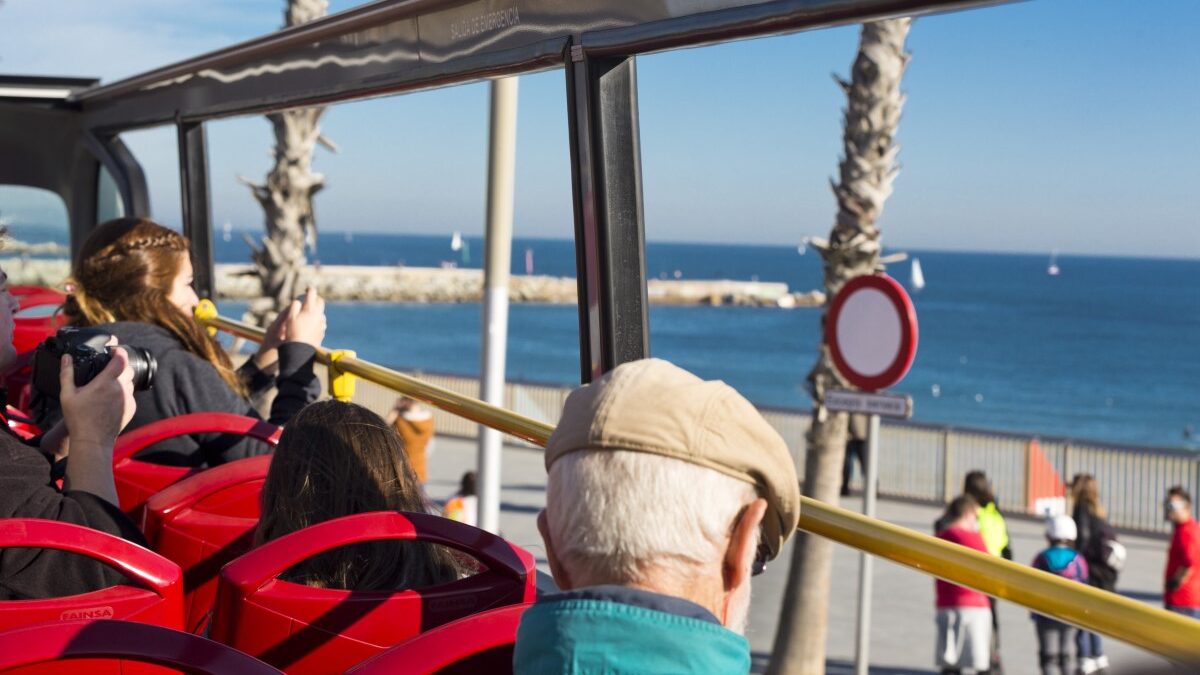 In a hurry to explore? Grab the 24-hour ticket. Got time to soak in the sights and stories? The 48-hour ticket is your perfect match.
Want the full ride without stepping off? Absolutely! A full circuit takes around 2 hours, treating you to onboard audio guides in 15 languages for a comprehensive experience.
We suggest initiating your route planning using our interactive map. It highlights bus stops in proximity to your points of interest. You can download our PDF Map in the Maps & Schedule section for on-the-go-access.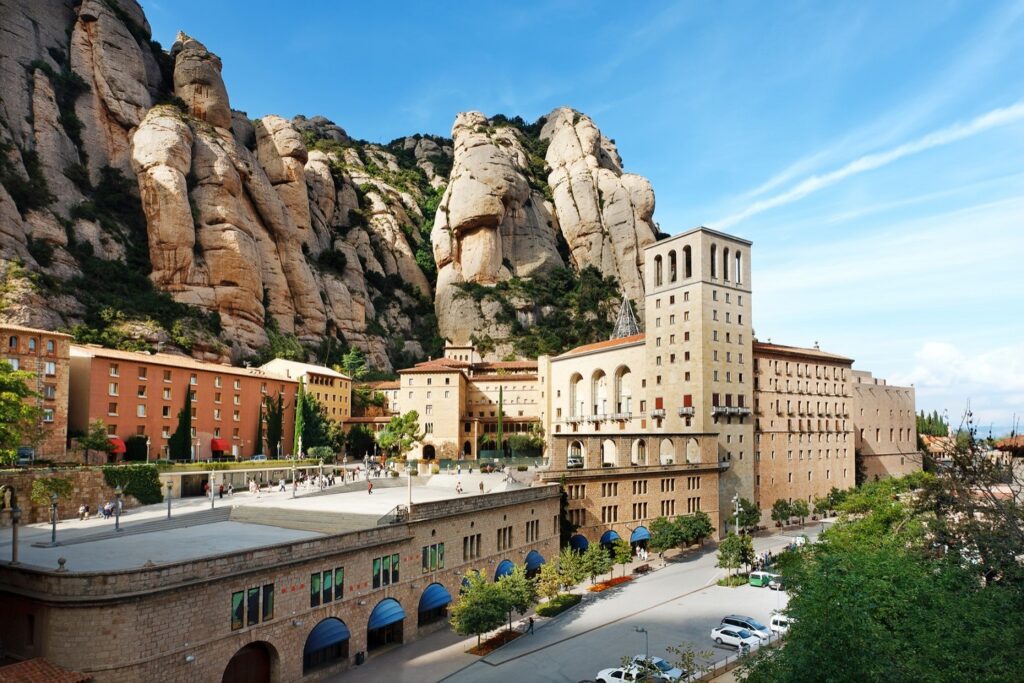 More days to explore Barcelona?
Beyond the Hop-on-Hop-off bus, you can dive into awesome excursions from Barcelona.
Ever caught wind of the stunning Montserrat Monastery nestled in the mountains? Or savoring a wine tasting at a renowned winery near Barcelona?
Explore these and other exciting excursions near Barcelona with our partner Julià Travel.
Ready to embark?
3. REVISIT YOUR FAVORITE SITES AS MANY TIMES AS YOU NEED!
The Sagrada Familia has been under construction for 140 years. Imagine catching a glimpse for just 30 minutes – a mere teaser of its magnificence!
A key perk of exploring Barcelona via the Hop-on-Hop-off bus is the flexibility it offers. Depending on your chosen route and ticket duration (24 or 48 hours), you can revisit your favorite spots multiple times, ensuring you don't miss a single detail.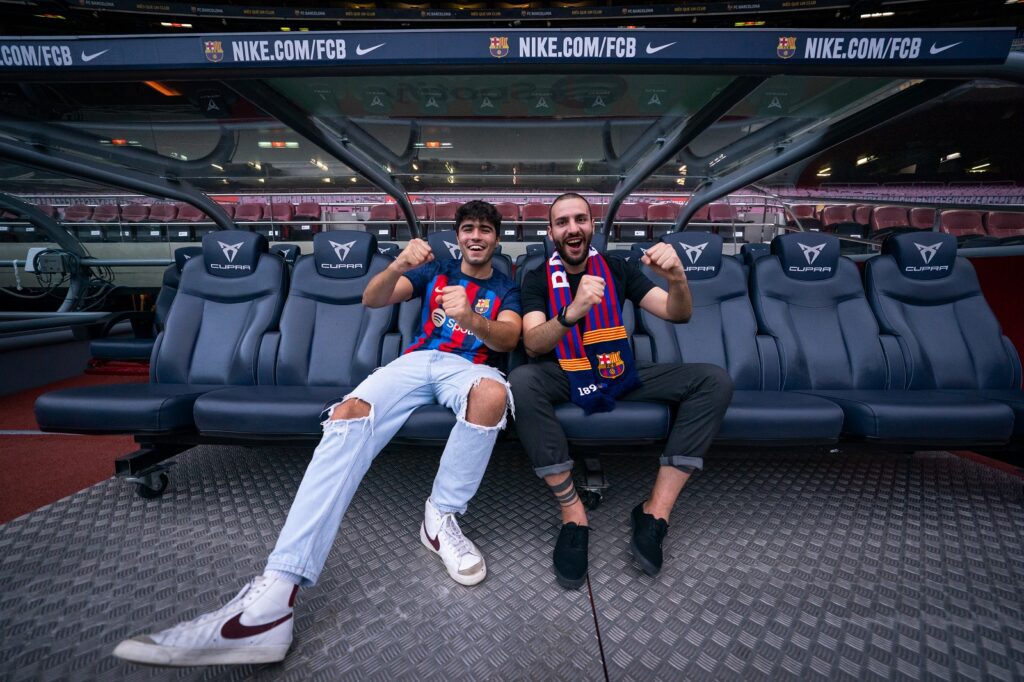 Imagine starting your day with a guided Sagrada Familia tour led by an expert in the morning. Later, as the afternoon sun bathes the city, hop back on the bus to marvel once more at its awe-inspiring exterior architecture. What's more, after your exploration, you can hop back on and venture to other attractions—Park Güell, Aquarium, Camp Nou, and beyond. With Barcelona City Tour's Hop-on-Hop-off, possibilities are boundless!
Keep in mind, the buses swing by every 10 to 25 minutes at each stop, route-dependent. It's the perfect opportunity to grab a souvenir or recharge before embarking on your next adventure.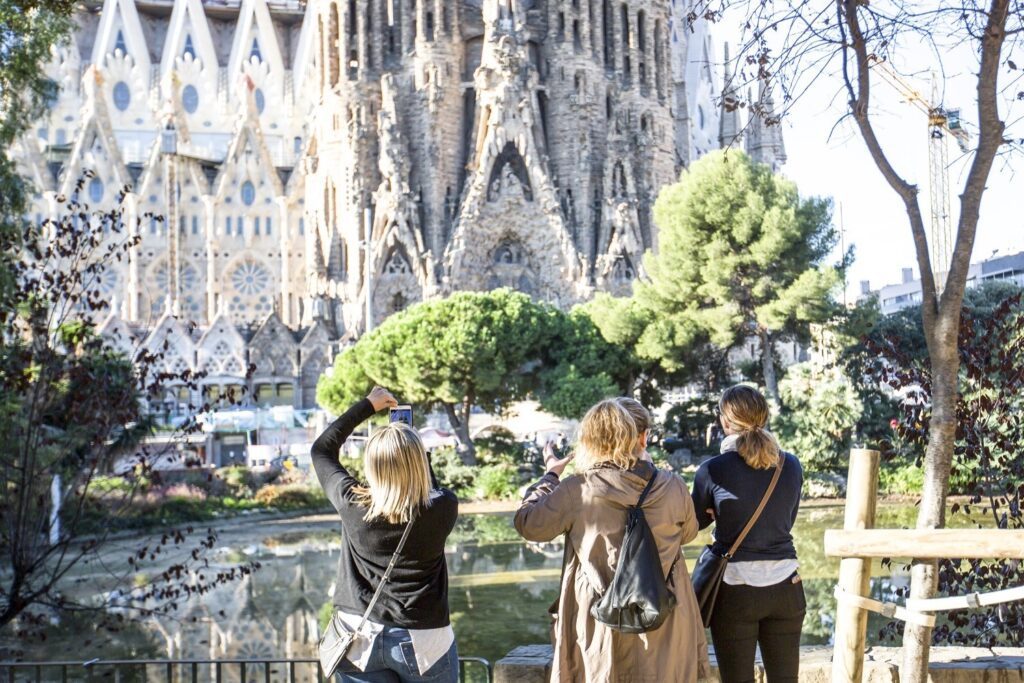 📌 Smart Travel Tip 📌
Sagrada Familia is a Barcelona must-see. Secure your tickets early—they're in high demand!
Missed out? Here's a trick: Opt for an organized tour to ensure your visit to this iconic gem.
Our friends at Julià Travel have you covered with last-minute availability, plus a fast-track ticket and expert guidance. Check their website!

4. STEER CLEAR OF DELAYS AND PUBLIC TRANSPORTATION HASSLES
Barcelona's got great transport choices, but it can be confusing for visitors – mixing options, schedules, and prices.
Opting for the tourist bus not only spares you from waiting for public transportation but also treats you to the city's finest vistas.
By trimming transportation time, you can squeeze in another memorable experience. Here's a twist—4 plans that seamlessly complement your Barcelona sightseeing bus ticket: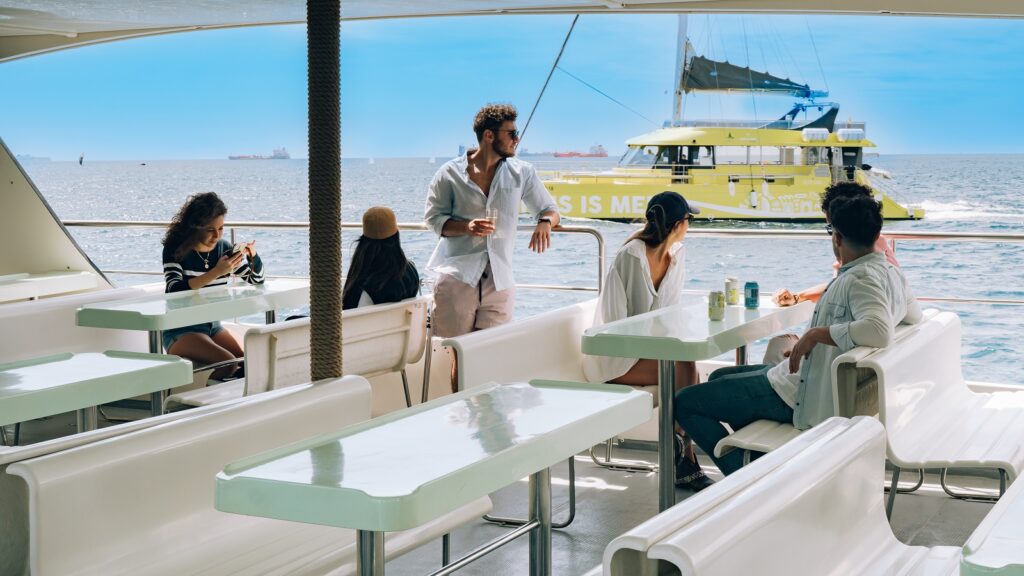 a) Enjoy the Barcelona skyline from the sea on an eco-friendly catamaran ride 🌊
To embark on this adventure, just hop off at either stop 4 or 5 along the West Route and hop back on at Port Vell.
Skip the lines at the port. Buy your catamaran ride tickets along with your sightseeing bus tickets online hassle-free!
b) Immerse yourself in the history of FC Barcelona: tour of the FC Barcelona Museum at Camp Nou⚽ Stadium.
Calling all Barça enthusiasts! Don't let this slip by. Explore the FC Barcelona Museum, unveil the club's history, and be captivated by its trophies, artifacts, plus the sweeping view of the iconic Camp Nou pitch.
Save money and time buying our Combo FC Barcelona Museum + Hop on Hop off Bus Ticket. You can buy them online here😉.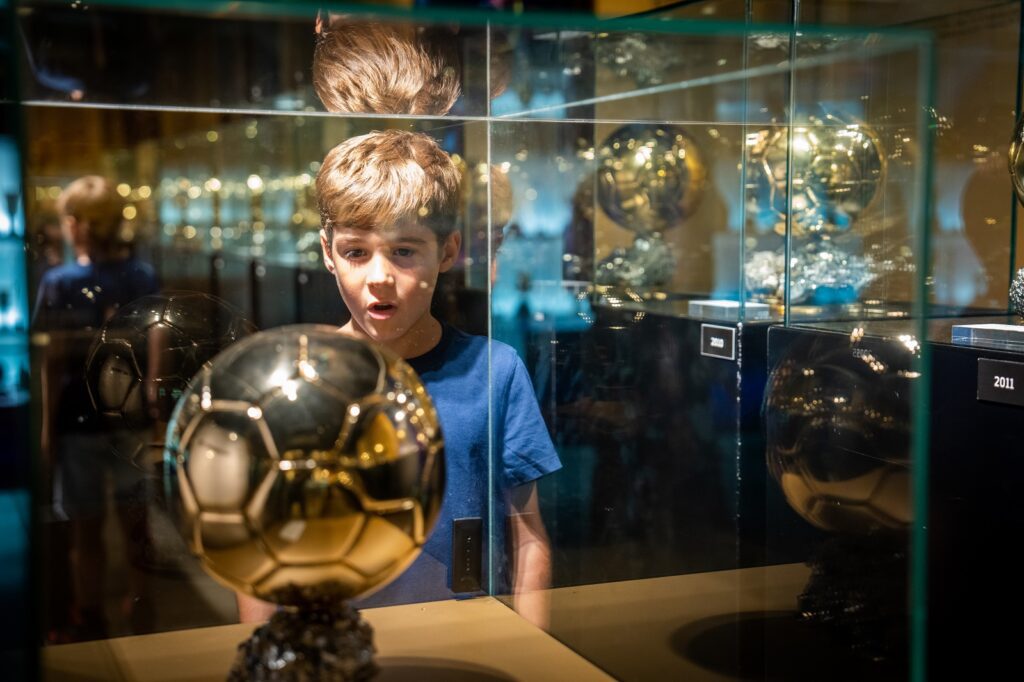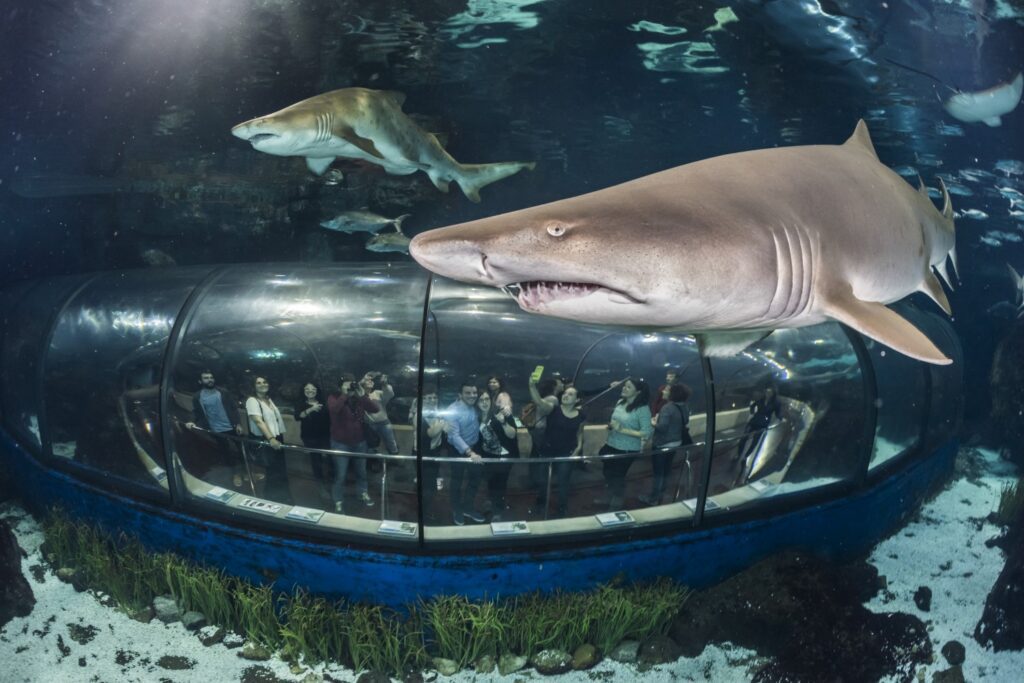 c) Family Trip to L'Aquarium of Barcelona 🐟
Uncover the captivating world of L'Aquàrium de Barcelona, the globe's largest Mediterranean aquarium.
Dive into 14 mesmerizing aquariums showcasing Mediterranean ecosystems. Gaze at a variety of species, including sharks—a memorable experience for all ages!
Don't miss out on the ticket savings with the Hop-on-Hop-off + L'Aquarium de Barcelona combo!
d) Enjoy Catamaran Ride + Chill-Out Music 🎶
Want a relaxed moment with family or friends? Hop onto this eco-friendly premium catamaran. Its intimate capacity ensures a more enjoyable experience as you sip drinks and groove to chill-out tunes on board.
Don't forget, you can save both time and money by buying your ticket online.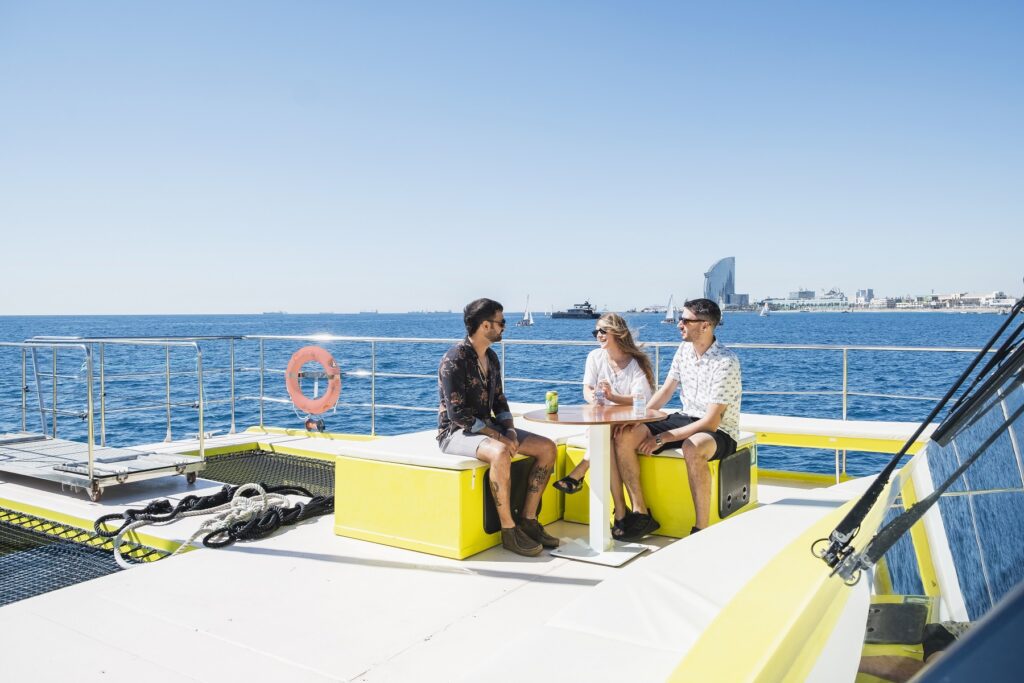 Apart from these money-saving combos, the Barcelona City Tour Hop-on-Hop-off bus comes with loads of discounts at various spots in the city. When you hop on, you'll receive a brochure with all the discounts waiting for you.
Feel free to explore our discounts section to discover all the perks that our tourist bus brings your way.
5. HAVE IT ALL RIGHT AT YOUR MOBILE
Once you've got your tourist bus tickets, consider downloading the official City Tour Worldwide app. It gives you access to routes, schedules, and real-time bus locations at each stop.
Also, if you need to stay online to check or adjust your plans, remember that all our buses provide free WiFi access.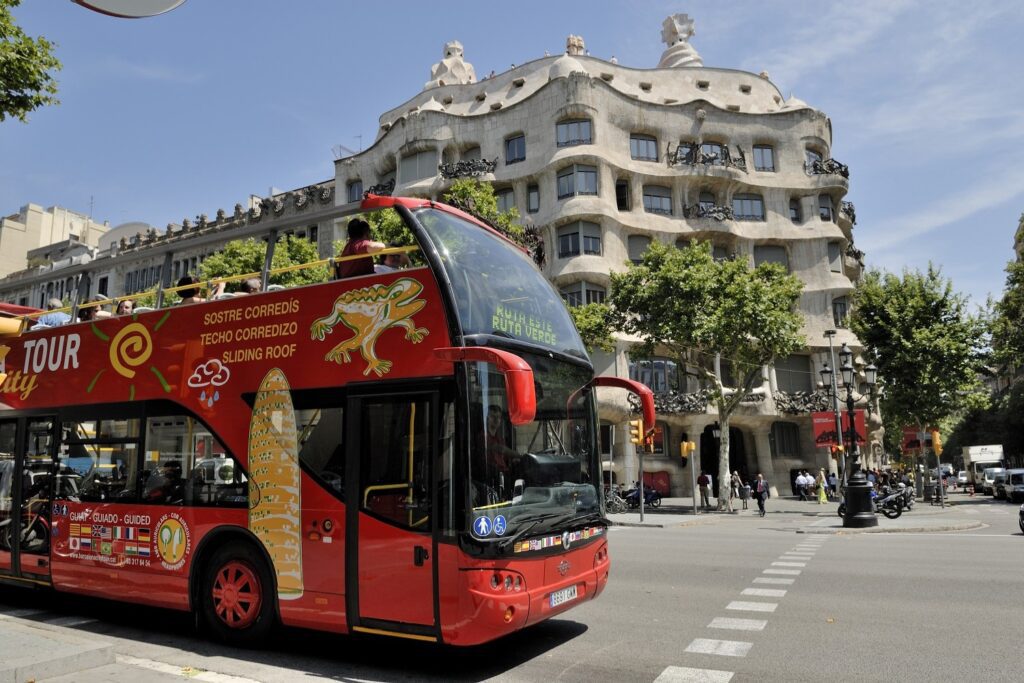 As you can see, apart from offering you a fresh perspective to explore Gaudí's city at your own rhythm, the Barcelona tourist bus is a time and money saver for your journey!
If you're eager to amp up your Barcelona adventure with awesome excursions, make sure to check out Julià Travel's website. With ninety years of expertise in crafting unforgettable experiences, your journey is bound to be extraordinary.
If you've already hopped on our Barcelona tourist bus, share your experience on our social platforms! And remember to drop a comment if this post helped you plan your visit 😃.